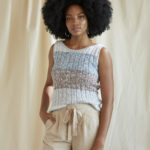 The free Sandpiper tank is a simple knit in Cotton Supreme Waves.
Friday, August 7th @ 3PM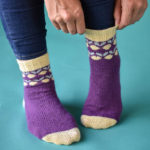 It's Free Pattern Friday! Today, Lemon Drop Socks in Bella Cash (pattern link here). I've said it before and I'll say it again – Bella Cash is the unsung hero of socks. I've knit myself several pairs in Bella Cash, and they're still soft and good-looking even though I just toss 'em in the washer …
Continue reading "Free Pattern Friday – Lemon Drop Socks"
Friday, July 31st @ 2PM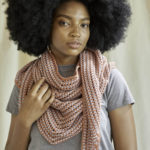 The Piquilla Shawl is a two-color crochet delight in Wool Pop - and it's free!
Friday, July 24th @ 6PM
The Crystal Coast scarf in Cotton Supreme DK Seaspray is a warm-weather delight. Today, we set it free!
Friday, July 17th @ 8PM